Guest List Prices Hashtag Friday
From 23:59 to 1:00
Free entry

Entry + 1 drink = 6€ / Entry + 2 drinks = 10€
From 1:00 to 3:00
Entry + 1 drink = 8€ / Entry + 2 drinks = 12€
VIP Tables Hashtag Friday
Stage
120€* (before 1:30) / 150€* (after 1:30)
VIP Area
100€* (before 1:30) / 120€* (after 1:30)
Dancefloor
80€* (before 1:30) / 100€* (after 1:30)
*The price includes a table, bottle of alcohol (Gin, Whisky, Rum…), mix drinks and entry for a maximum of 5 people. Check out the for table locations.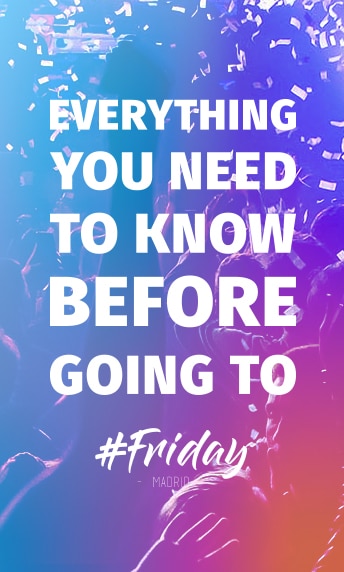 Description Hashtag Friday
A party you don't want to miss!
Hashtag Friday Madrid brings you every week the best Hip Hop, Reggaeton and EDM down to Icon Club. It is the most popular international party on Fridays and the club is located right in the city. The crowd is a mix of people from all around the world which creates a unique party atmosphere.
Enjoy the best drink deals in town!
We recommend you to sign-up for the guest list and take advantage of the great drink deals: Before 1:00 you get 2 drinks for 10€ and before 3:00 you get 2 drinks for 12€ which is unbeatable on a Friday night in Madrid. It is an open guest list which means you simply say you are on "Nico List" or alternatively sign-up online and show the confirmation email at the door.
Skip the line with an online VIP ticket!
Hashtag Friday Madrid is very busy and oftentimes there are more people than space in the club. Therefore, we recommend you come early to make sure you get in without a lot of waiting and take advantage of best drink deals. There are online VIP tickets available which allow you to skip the line and have guaranteed access until 1:30.
Take advantage of the VIP deals before 1:30!
If you want to upgrade your night with a VIP table, Hashtag Friday Madrid has three options for you: a VIP table on stage, where you have the most privileged position in the club overseeing the crowd, the VIP Area where you only get in if you have a table and lastly a table on the dance floor which has no access control. All options are worth it, just decide which one suits most your preferences. And by the way, there are discounts on VIP tables if you reserve and show up before 1:30.
Dress up for the best Friday night in town!
The door staff is strict with respect to dress code. Make sure you are well dressed (no sports wear) and bring a valid ID to make sure you will get in.
Don't forget: What happens at Hashtag Friday stays at Hashtag Friday!
Recommendations 
Hashtag Friday
Get on the guest list for free entry and drink discounts.
Get a VIP table for a special nightlife experience.
Come well dressed and bring a valid ID.
Come early to get in fast and get the best drink deals. Nightlife Madrid is a team of professionals from all horizons, a friend who accompanies you to all parties 365 days a year.
At Nightlife Madrid, party language is spoken. A universal language that knows no borders and that unites people.
Nightlife Madrid evolves, improves and grows with the people who are part of its Family.