Bisou is the trendiest party in town and includes a very special game: When the song Kiss Kiss is playing you can go to the bar, give your love a kiss and get a shot. Don't miss it!
Free Birthday Pack
Celebrate your birthday at Kiss Kiss and we invite you and your friends to a free bottle of champagne and pound cake. Send us an email to info@nightlifemadrid.com for more info.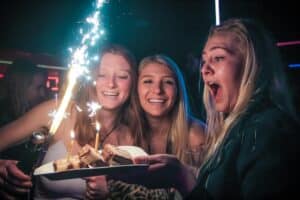 Please note that the club has the rights to refuse access if you do not follow the dress code or any other regulations of the venue.