House, Reggaeton, Commercial
Ladies: 20 / Gents: 20/21
Guest List Prices La Casa
From 23:59 to 1:30
Ladies: Free entry + open bar of all drinks

Gents: Entry + open bar of all drinks = 10€
After 1:30
Ladies & Gents: Entry + 1 drink = 15€
Grey Goose Area
Tables 100, 101, 102, 103, 104 = 250€/350€* per Table (5-7 people)

Tables 200, 201, 202, 203, 204, 205 = 400€/500€* per Table (5-7 people)
Belvedere Area
Tables 400, 401, 402, 403 = 250€/300€* per Table (8 people)

Tables 300, 301, 302 = from 350€* per Table (8 people)
Clicquot Area
Tables 500, 501, 502 = from 200€* per Table (5 people)

Table 503 = 600€/1.000€* per Table (10-15 people)
Dancefloor Area
Tables 800, 801, 802, 803 = from 200€* per Table (5 people)
*Prices are minimum consumptions per table. Consumptions of 200€ are with a bottle 150€ + shisha.
Check out the floor plan for table locations.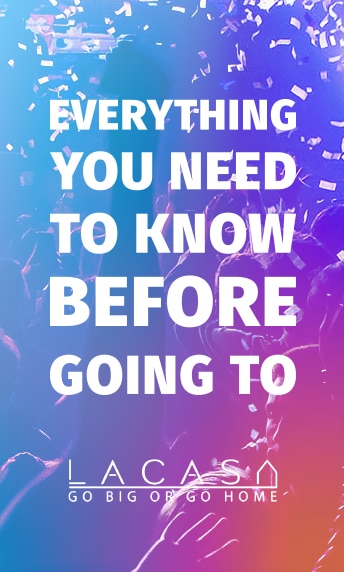 Party at one of Madrid's top clubs!
La Casa Madrid is an elegant weekly party at Bling Bling on Wednesdays. The crowd is mixed and brings together locals and internationals alike with the same goal of having a great night out. The DJs put a commercial music mix with House, Reggaeton and Hits to make you dance. Bling Bling Madrid has a small dance floor with many VIP tables located all around it.
Sign-up for the guest list for the best deals!
One of the most popular features of La Casa Madrid is the open bar from 12:00 to 1:30. It is free for ladies and for gents it costs 10€. After 1:30 the price raise is significant and the entry is 15€ including 1 drink. Without a guest list the prices are 15€ including 1 drink before 1:30 and 20€ including 1 drink after 1:30. It is an open guest list so you simply say you are on "Nico List" or sign-up online and show the confirmation email at the door. So make sure you are on the guest list and be there early to take advantage of the open bar deal.
Go VIP or go home!
Ladies Night Madrid offers a wide range of VIP tables in different VIP zones. The prices depend on the VIP area, number of people, which bottles you are selecting and the demand of each night. VIP tables start from 200€ including a standard bottle of alcohol, mix drinks, hookah and access for 5 people. In the VIP areas are a lot of image girls and entertainment to make sure you have an incredible nightlife experience. Get in touch with us for a personalized quote. The earlier you book the better the price!
Come early and enjoy the open bar to the fullest!
The door staff is very strict on dress code and IDs so make sure you are well dressed (no sports wear) and bring a valid ID (no photocopies allowed). To take advantage of the open bar people come early and so we recommend you. Doors open at midnight and you better be in line at 23:45 already.
Get on the guest list for free entry (ladies) and reduced cover (gents).
Get a VIP table for a special nightlife experience.
Come well dressed and bring a valid ID (no photocopies allowed).
Come early around 23:45 to take advantage of the open bar. Nightlife Madrid is a team of professionals from all horizons, a friend who accompanies you to all parties 365 days a year.
At Nightlife Madrid, party language is spoken. A universal language that knows no borders and that unites people.
Nightlife Madrid evolves, improves and grows with the people who are part of its Family.