The participation in the Meet & Party Madrid pub crawl is 10€.
It includes access to all places and the drinks stated in the Facebook event. Drinks vary from week to week depending on the tour.
Some pub crawls have the option of an additional open bar for 5€.
Nightlife Pass holders get a 5€ discount.
Check out the Facebook page for details.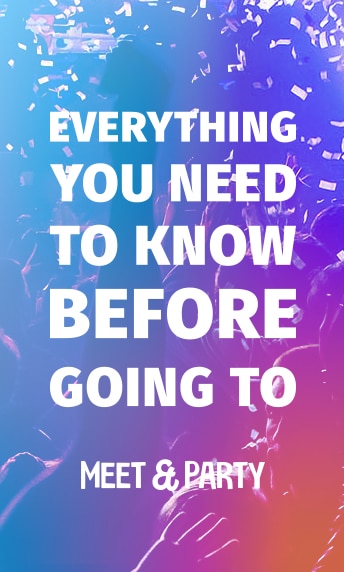 Join the best pub crawl in Madrid!
Experience Madrid's amazing nightlife while meeting people from all around the world on our weekly Meet & Party pub crawl. Every Saturday we take you on a new tour and show you the best each neighborhood has to offer. Our pub crawls usually include 4 venues: 3 bars and 1 club! The price is 10€ and it includes free access to the venues and drinks such as shots, beer and sangria. On some pub crawls we offer an open bar option for 5€ extra. If you plan to join us regularly, we recommend you to get the Nightlife Pass as you save 5€ on each pub crawl.
No reservation required – just show up!
There's no reservation required. Simply come to the meeting point on time and join us. Our guides will be waiting for you at the door of the bar with our red Meet & Party t-shirt. If you need more information or are running late, please get in touch with us +34 632 773 881 (WhatsApp and calls).
Every Saturday a different pub crawl!
The Meet & Party pub crawl is Madrid's only themed pub crawl and also the only one that shows you different neighborhoods. Here are some examples:
Malasaña Pub Crawl
On the Malasaña Pub Crawl we take you through Madrid's hipster neighborhood.
Downtown Pub Crawl
On the Downtown Pub Crawl we tour around Sol with 1000 & 1 options to go out.
Full Moon Pub Crawl
On the Full Moon Pub Crawl we will give you glow bracelets and neon face paint.
Super Pub Crawl
On the Super Pub Crawl you have the chance to participate in drinking games such as beer pong and beer funnel.
Got Talent Pub Crawl
On the Got Talent Pub Crawl you will have the chance to sing Karaoke and dance on the bar.
Moncloa Pub Crawl
On the Moncloa Pub Crawl we will show you the nightlife in Madris's student neighborhood.
Dress up and don't forget your ID!
Important note: Please be well dressed and bring a valid ID. The places have the rights to refuse access if you do not follow the dress code or any other regulations of the venue.
Recommendations
Meet & Party
Check out the places and what's included on our Facebook page.
There's no sign-up required. Just show up at the meeting point and join the pub crawl.
Come well dressed and bring a valid ID.
If you are running late, please get in touch with us +34 632 773 881 (WhatsApp and calls). Nightlife Madrid is a team of professionals from all horizons, a friend who accompanies you to all parties 365 days a year.
At Nightlife Madrid, party language is spoken. A universal language that knows no borders and that unites people.
Nightlife Madrid evolves, improves and grows with the people who are part of its Family.