Reservation Required
Please send us a Whatsapp
Meet & Speak Madrid has no fee. Just come and enjoy the event.
There are special prices at the bar during the event.
Around 22:30 to 23:00 there will be free tapas as courtesy of the venue. During covid-19 no tapas are served.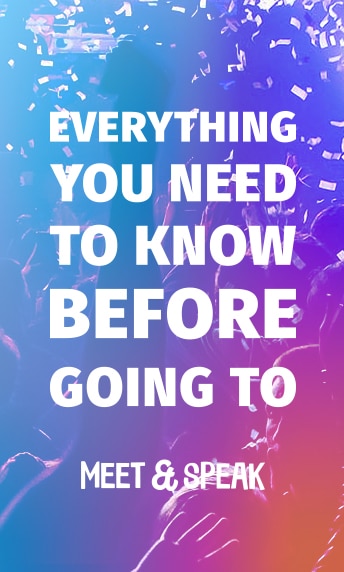 Let's get social!
Meet & Speak Madrid is the city's biggest and most popular language exchange and international meeting point. The event takes place at Cambridge Soho Club at Plaza de España 6. The venue is super cozy and provides bar stools in the bar area, couches to chill in the event area, chairs and tables in the restaurant area and standing options.
Practice languages and meet new people!
Upon arrival you will get the country flags of the languages you speak and want to practice and then you can mix and mingle in a laid back and informal way with everyone. The goal of Meet & Speak Madrid is that you get to know other people, practice your languages skills and make new friends. Just approach the people you feel like talking to and have fun!
Taste some delicious tapas!
The entry is completely free and there is no guest list to sign-up to. Just dress up and stop by at the venue. During the event there are special drink prices at the bar and around 22:30 to 23:00 Soho Club Madrid will serve some free tapas. During covid-19 no tapas are served.
Tap into the Spanish culture with Citylife Madrid!
Meet & Speak Madrid is a great opportunity to meet new people and get to know more about languages and cultures you are interested in. Before the event there are regular activities such as Wine Tasting, Flamenco Show or Comedy Night. If you are interested in getting to know more about the Spanish culture and have fun, check out the website of Citylife Madrid for the dates of the upcoming activities and prices.
Recommendations
Meet & Speak
Consigue las banderas del idioma que hablas y el que quieres practicar en el stand de la entrada a tú llegada al evento.
Aprovecha las ventajas de los precios especiales de las bebidas durante el evento.
No te pierdas de las deliciosas tapas que sirven entre las 22:30-23:00. Nightlife Madrid is a team of professionals from all horizons, a friend who accompanies you to all parties 365 days a year.
At Nightlife Madrid, party language is spoken. A universal language that knows no borders and that unites people.
Nightlife Madrid evolves, improves and grows with the people who are part of its Family.