Teatro Kapital is the city's most important club. It is a place you do not want to miss during your stay in Madrid! VIP tables at Teatro Kapital are not so easy to explain as the club has 7 floors and no floor plans exist. Nevertheless, on this page we have collected all you need to know about VIP tables Madrid's giant night club.
The most impressive feature, apart from the fact that Teatro Kapital has 7 stories, is the massive main floor. It has a stage with the DJs of the night, a group of show dancers and guest performers. Since it is a former theater it has balconies going up on both sides which are transformed in VIP areas. Each balcony has a capacity of around 50 people and hence it is the perfect place for a big group. However, individual tables can be reserved on a balcony as well. From the balconies you have a spectacular view of the main stage and dance floor. Also, there are tables right on the main floor on the lateral sides. Those tables are ideal if you want to be closer to the party.
The Hip Hop floor is quite small but the VIP tables are spacious and well located. As the name of the floor suggests, it is the ideal place for Hip Hop fans.
As you can imagine in Spain, a Reggaeton floor is essential to please the crowd and Teatro Kapital will not disappoint you on that. The 5th floor is the Reggaeton area. The floor is nothing to compare with the main floor and table locations are a bit off the happening, but still if you like Reggaeton you may want to give it a try.
What are the options for VIP tables?
Lateral Side (Main Floor)
170€* for a maximum of  4 people
Balcony (Main Floor)
140€* for a maximum of 5 people
Hip Hop Floor
140€* for a maximum of 5 people
Reggaeton Floor
140€* for a maximum of 5 people
Special Price (4th Balcony or Terrace)
100€* for a maximum of 5 people (only before 1:00)
*The price includes a table, bottle of alcohol (Gin, Whisky, Rum…), mix drinks and entry for the number of people specified above.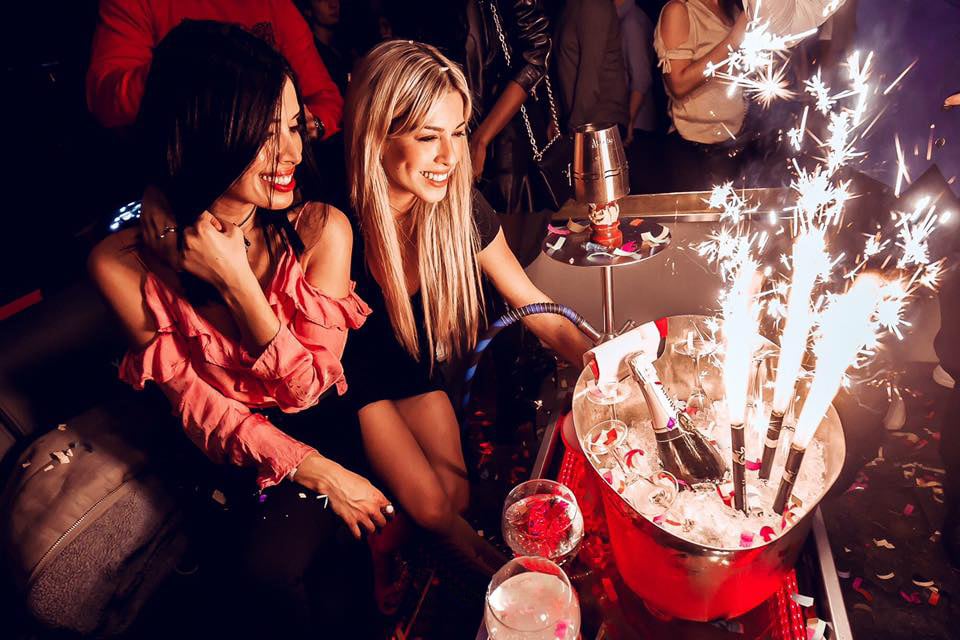 How to reserve a VIP table?
There are different ways to reserve a VIP table at Teatro Kapital. The most common one is by phone or Whatsapp (+34 632 773 881). You simply get in touch with us with your preferences and we will reserve a table in the preferred VIP zone for you. Alternatively, you can send us an email to [email protected]. Either way, to log down your reservation we need your first name, last name, date of the reservation, in which zone you want the table and how many friends are coming with you. If you are planning to consume more bottles we recommend you to include them in the reservation because at night they cost 30€ more!
The VIP zones are indicative and can not be guaranteed! We recommend you to arrive around 12:30 before the majority of people arrive and the door is not too busy in order to be properly attended by the club staff. To guarantee a high profile in the club there is no pre-payment. Instead you will have to make a reservation and upon arrival the payment has to be done by credit card or with cash.
What does a VIP table include?
A VIP table at Teatro Kapital includes a bottle of standard alcohol (Gin, Whisky, Rum, Vodka…), soft drinks and access for 4 (lateral side of the main floor) or 5 people (all other VIP areas) to the club.
What to do upon arrival at the club?
VIP tables at Teatro Kapital are reserved until 2:30 and then will be sold at the door. To ensure a smooth experience we recommend you show up between 12:30 and 1:00 before the majority of people arrive and the staff is not that stressed. Upon arrival take the VIP entry on the right hand side and say you have a table reservation under your name. Then they will bring you to a counter where you select the bottles and soft drinks. Once you have paid your friends will be granted access and you will be brought to your VIP table. Meanwhile they will prepare your order and bring it directly to your table.
Does a VIP table guarantee entry to the club?
No! The club always has the right to refuse access if you do not comply with the dress code or other requirements of the club. Usually that is not a problem. Just make sure you are well dressed and bring a valid ID.
Bottle Menu – Teatro Kapital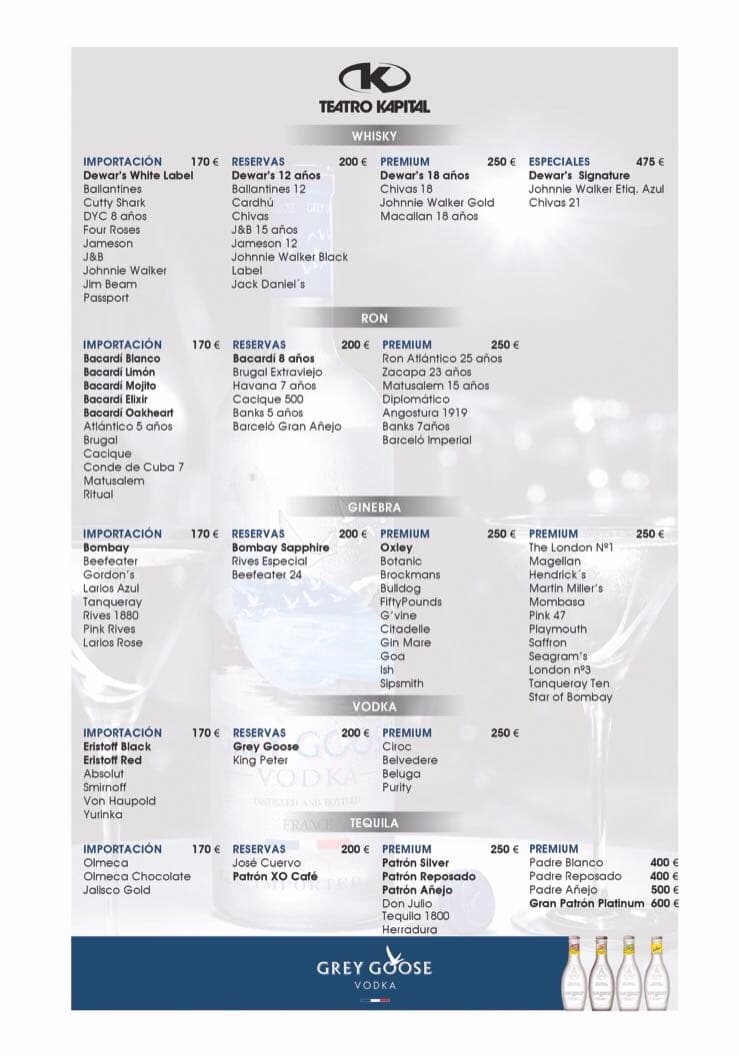 Nightlife Madrid is a team of professionals from all horizons, a friend who accompanies you to all parties 365 days a year.
At Nightlife Madrid, party language is spoken. A universal language that knows no borders and that unites people.
Nightlife Madrid evolves, improves and grows with the people who are part of its Family.