Inside with DJ
Table, bottle of alcohol, mix drinks and entry for a maximum of 6 people = 90€* before 19:00 and 100€* after 19:00
Entry + 1 mixed drink or 2 beer, wine, soft drinks = 8€ (Early ticket before 19:00)
Entry + 1 mixed drink or 2 beer, wine, soft drinks = 10€
*Bottle prices are for standard brands. Premium brands are at a higher price
.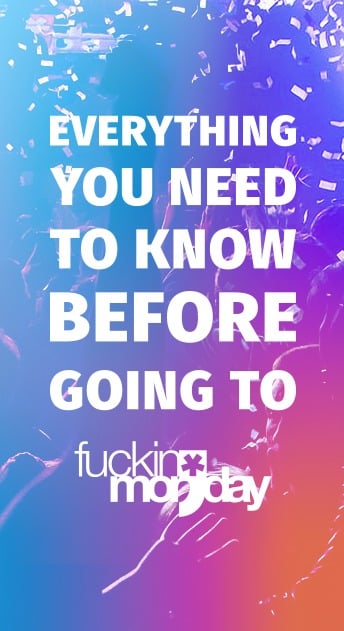 The show must go on!
Covid-19 has changed the world and so did we. We have adapted the concept of Fucking Monday to meet all requirements set by the health authorities to provide a save environment for our partygoers!
The outdoor and indoor experience!
The party takes place at Bocanegra (Casa Corona) right in the center of the city. The place is perfect because it combines the summer vibes on the spectacular outdoor terrace with the party vibes in the inside restaurant and bar area.
The party starts at 18:00 on the terrace with chill vibes and drinks which is perfect to chat with your friends and get in the party mood. The inside party takes off at 18:00 with a live DJ sets of the Fucking Monday resident DJs. Both the terrace and the indoors are close at 22:00.
Am I safe? What are the Covid-19 measures!
We believe during those uncertain times there's no safe place. A lot of things can be done to make it as safe as possible, but there will always remain a risk. Our partners at Bocanegra comply with all standards set by the health authorities and so we ask you. Here are the main rules we ask you to keep in mind:
Disinfect your hands before you enter the place

Wash your hands after you have used the bathroom

Please respect the maximum number of people per table

Don't switch tables

Wear your mask entering the venue and when going to the bathroom

Don't share drinks

Check in at the door so we know you have been there and we can inform you in case we have a Covid-19 infection
Get in smoothly!
Dress up (the dress code is smart casual), bring a valid ID and come early to secure your spot.
Recommendations
Fucking Monday
Reserve your table inside before it's sold out.
If you like mixed drinks you'll save money with the bottle offer.
Come well dressed and bring a valid ID. Nightlife Madrid is a team of professionals from all horizons, a friend who accompanies you to all parties 365 days a year.
At Nightlife Madrid, party language is spoken. A universal language that knows no borders and that unites people.
Nightlife Madrid evolves, improves and grows with the people who are part of its Family.