Guest List Prices Fucking Monday
From 23:30 to 1:30
Free entry (before 0:30)

Entry + 1 drink = 6€

Entry + 2 drinks = 10€
From 1:30 to 3:00
Entry + 1 drink = 8€

Entry + 2 drinks = 12€
After 3:00
Entry + 1 drink = 10€

Entry + 2 drinks = 15€
VIP Tables Fucking Monday
"Big Show" Stage
600€* / Table (10 people)
Lateral Side or Latin Floor
*Prices are minimum consumptions per table.
Check out the floor plan and the bottle menu from where you can choose!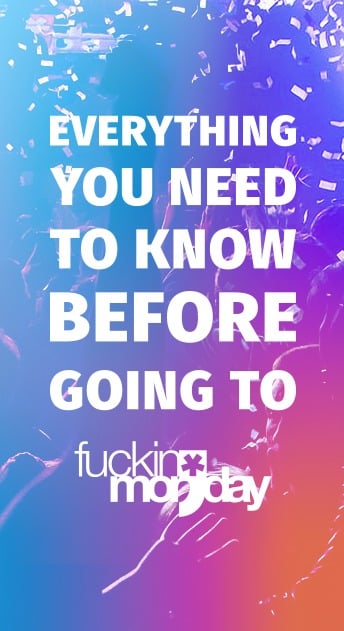 Description Fucking Monday
A party like no other!
Fucking Monday Madrid is the city's best international party attracting more than 1.000 partygoers every week. The event takes place on three floors (Commercial floor, Latin floor and Beer Pong floor) and includes a lot of surprises such as CO2 cannon, confetti shots, guest performers and theme parties.
What makes Fucking Monday so special?
The Commercial floor is the biggest one and it's the one where the themed parties are implemented. It has a big stage for VIP tables, a huge dance floor with VIP tables and bars alongside it and an amazing light system. Twice per night the DJs perform a different countdown which finishes off with CO2 cannon, confetti shots and other surprises according to the theme of the night. The Latin floor is the perfect setting for reggaeton and latin music. Lower ceiling, LED illumination and a private bar gives the room the perfect vibe for a long night of Latin music. The third floor is reserved for a Beer Pong tournament with a cash jackpot. To be able to participate show up by 12:30am at the latest to make sure you get a spot on the bracket.
Upgrade your night with a VIP experience!
Fucking Monday Madrid is also known for its great drink deals. Sign-up for the guest list and you can get 2 mixed drinks for 10€ before 1:30am and 2 mixed drinks for 12€ before 3:00am. If you are looking for a VIP experience there are a number of different options, from the "Big Show" where VIP tables are located on stage and the staff performs a show to VIP tables on the lateral side of the dance floor or on the Latin floor. Reserve your VIP table before the party to make sure they are not sold out.
Get in smoothly!
Dress up (the dress code is smart casual), bring a valid ID and sign-up for the guest list to take advantage of the drink deals at the door. Hint: Some people come already at 22:00 to join Meet & Dance which is a beginner's class of Bachata and Salsa, which includes the entry for Fucking Monday Madrid as well.
Recommendations
Fucking Monday
Get on the guest list for free entry and drink discounts.
Get a VIP table on stage for a special nightlife experience.
Come early to get in fast and get the best drink deals. Tip: If you come before 23:30 it will only cost 5€ including 1 drink.
Get some Fucking Monday merchandize (t-shirt, hoodie, cap…) as a souvenir. Nightlife Madrid is a team of professionals from all horizons, a friend who accompanies you to all parties 365 days a year.
At Nightlife Madrid, party language is spoken. A universal language that knows no borders and that unites people.
Nightlife Madrid evolves, improves and grows with the people who are part of its Family.