Thursday, Friday & Saturday
Guest List Prices Icon Club
From 23:59 to 1:30
Thursday: Entry + 1 drink = 8€ / Entry + 2 drinks = 12€

Friday & Saturday: Entry + 1 drink = 10€ / Entry + 2 drinks = 15€
After 1:30
Thursday: Entry + 1 drink = from 8€

Friday & Saturday: Entry + 1 drink = from 10€
Super VIP
Thursday: 120€* (entry before 2:00)

Friday & Saturday: 130€* (entry before 2:00)
VIP
Thursday: 100€* (entry before 2:00)

Friday & Saturday: 110€* (entry before 2:00)
*The price includes a table, bottle of alcohol (Gin, Whisky, Rum…), mix drinks and entry for a maximum of 5 people.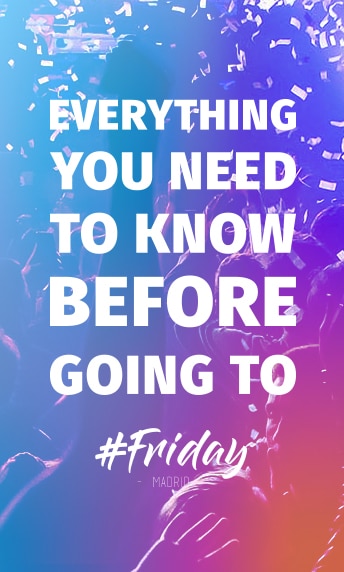 The best international vibe in town!
Icon Club is the place to be for young, international people from around the world that are studying, living or visiting Madrid. The club nights involve DJ's that are playing a danceable commercial music mix covering Reggaeton, Hip Hop, RNB, Future House and Hits, so there's something for every taste.
Excellent customer service!
Icon Club's staff is a mix of locals and internationals and most of them are able to attend you at least in Spanish and in English, whereas some even speak more languages. The experience starts with a warm welcome at the door from the host or security staff, continues with the girl at the cashier explaining to you the different deals available and eventually the bartenders that are serving you with a smile.
Take advantage of the best deals!
Icon Club is super popular and usually sells out. Therefore, we are highly recommending you to get your tickets or table online. Another benefit of the online sales is that you have access to the best deals. Prices at the door are usually a bit higher.
Upgrade your night with a VIP experience!
Icon Club has very nice VIP areas which include some details to make it a real experience. The most visible one is called Super VIP which is a bit elevated and right between the DJ booth and dance floor. If you are a birthday or bigger group and want to have it a bit more private, there's another VIP area perfect for groups. Just get in touch with us for recommendations.
Entry requirements!
Icon Club has a strict door policy with respect to dress code and documentation. So make sure you are well dressed (no sports wear) and bring a valid ID.
Recommendations 
Icon Club
Secure entry and the best deals with online pre-sale tickets.
Get a VIP table for a special nightlife experience.
Come well dressed and bring a valid ID.
Don't forget to take a photo in the amazing photo booth. Nightlife Madrid is a team of professionals from all horizons, a friend who accompanies you to all parties 365 days a year.
At Nightlife Madrid, party language is spoken. A universal language that knows no borders and that unites people.
Nightlife Madrid evolves, improves and grows with the people who are part of its Family.