Early Ticket (Entry before 21:00)
Entry + 1 mixed drink or 2 wine, beer, soft drinks = 12€
Standard Ticket
Entry + 1 mixed drink or 2 wine, beer, soft drinks = 15€
Table with a bottle
Table, bottle of alcohol, mix drinks and entry for up to 6 people = 120€*
*Bottle prices are for standard brands. Premium brands and big formats are at a higher price. The difference is to be paid at the venue.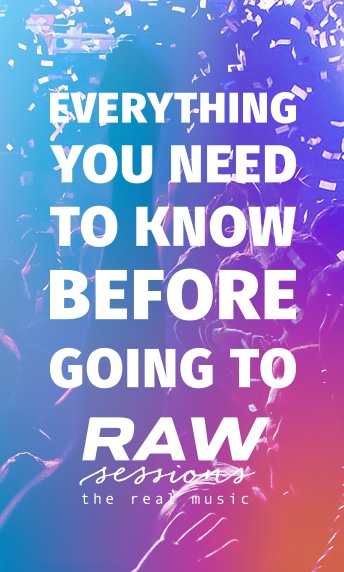 A unique party!
RAW Sessions is a unique mix of fresh music and cosmopolitan people taking place in unconventional and interesting party venues which truly make it stand out. Prepare to be taken on an incredible house based music journey influenced from around the world by our resident DJ as well as an eclectic mix of guest DJs. The crowd consists mainly of international students and young professionals looking for a different place to meet up and enjoy their time in the city together. We believe there is no better place than NuBel for this. The futuristic building is attached to the Reina Sofia Museum and features many artistic elements. From the red roof, to the tables, to the designer lamps – it is clear that every detail has been carefully considered making it into a truly special space. We are sure you'll love it as much as we do!
Tickets or bottle service?
RAW Sessions offers you tickets as well as bottle service. Usually, there's an early ticket with a discount for those that show up early, a standard ticket and bottle service which includes the entry for uptown 6 people. All ticket types can be booked online and if you have any questions, please don't hesitate to get in touch with us.
Dress up!
RAW Sessions requires a decent dress code and a valid ID. If you don't comply with it, you may get rejected and your ticket price may not get reimbursed.
Recommendations 
RAW Sessions
Important: Get your tickets online before they are sold out.
Come well dressed and bring a valid ID.
Enjoy the fresh party vibes. Nightlife Madrid is a team of professionals from all horizons, a friend who accompanies you to all parties 365 days a year.
At Nightlife Madrid, party language is spoken. A universal language that knows no borders and that unites people.
Nightlife Madrid evolves, improves and grows with the people who are part of its Family.