Early Arrivals (Entry before 19:00)
Entry + 1 mixed drink or 2 wine, beer, soft drinks = 12€
Standard Ticket
Entry + 1 mixed drink or 2 wine, beer, soft drinks = 15€
Tapas Pack
Entry + 4 tapas + 1 mixed drink or 2 wine, beer, soft drinks = 18€
Table with 1 bottle
Table, bottle of alcohol, mix drinks and entry for a maximum of 5 people = 120€*
Table with 2 bottles (save 20€!)
Table, 2 bottles of alcohol, mix drinks and entry for a maximum of 5 people = 220€
*Bottle prices are for standard brands. Premium brands are at a higher price
.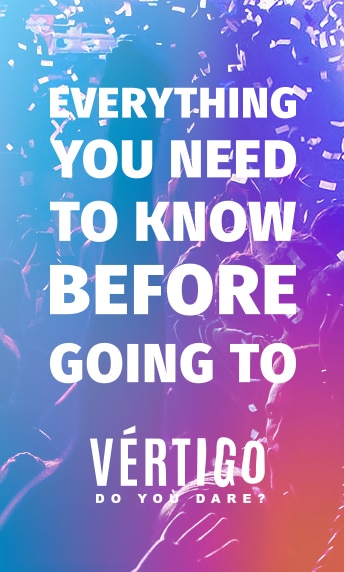 New heights!
Vértigo is an exclusive event on one of Madrid's finest rooftops with an amazing view, live DJ sets and delicious drinks. Every Wednesday it's the meeting point for young professionals and students that stop by after work or class to network and have a drink or two. The rooftop is located on top of Casa Suecia (Hotel 5***** NH Collection Suecia) and it's open all year round.
Tapas, drinks or bottle service!
Vértigo starts at 17:00 with a special pack of 4 Spanish tapas and 1 mixed drink or 2 wine, beer, soft drinks or water for 18€ which reflects the typical "cañas y tapas" lifestyle. Alternatively, the standard ticket is 12€ including a mixed drink or two wine, beer, soft drinks or water and is valid before 21:00. After 19:00 the standard ticket is 15€. If you like it fancy, you can order bottle service for 120€ for a maximum of 5 people. If you are thirsty you can get two bottles for 220€ and save 20€.
Get your tickets before they are sold out!
Vértigo is the place to be and in order to have a smooth experience we highly recommend you to get your tickets online before they are sold out. Just click on "Tickets & Tables" and you'll see the different options you have.
Safety first!
Important: To ensure a save environment the venue complies with all measures set out by the Spanish government:
✓ Distancing between tables
✓ Maximum 6 people per table
✓ No switching between tables
✓ Masks are obligatory and can only be removed at the table
✓ Reduced capacity of the venue
✓ Earlier closing time of the venue
In case you are feeling sick in the past couple of days, please stay home. Do keep others' health in mind and take care of yourself.
Dress up!
The door staff at Vértigo is very strict on dress code and IDs so make sure you are well dressed (no sports wear) and bring a valid ID.
Important: Get your tickets online before they are sold out.
Take advantage of the tapas and drinks deal for only 6€ more.
Come well dressed and bring a valid ID.
Take a photo of the Correos building. Nightlife Madrid is a team of professionals from all horizons, a friend who accompanies you to all parties 365 days a year.
At Nightlife Madrid, party language is spoken. A universal language that knows no borders and that unites people.
Nightlife Madrid evolves, improves and grows with the people who are part of its Family.