Thursday, Friday & Saturday
House, Hip Hop, Reggaeton
QR Code Prices Teatro Kapital
From 23:59 to 1:30
All days: Entry + 2 drink = 18€
After 1:30
Thursday: Entry + 1 drink = 16€
Friday: Entry + 1 drink = 18€
Saturday: Entry + 1 drink = 19€
Without guest list
Thursday: Entry + 1 drink = 18€
Friday: Entry + 1 drink = 20€
Saturday: Entry + 1 drink = 25€
VIP Tables Teatro Kapital
Main Floor
170€* – Lateral side of the main floor (4 people)
Balcony
140€* – Balcony of the main floor (5 people)
Hip Hop Floor
140€* – Hip Hop floor (5 people)
Special Offer (Only before 1:00am)
100€* – Balcony on the 4th floor or on the terrace (5 people)
*The price includes a table, bottle of alcohol (Gin, Whisky, Rum…), mix drinks and entry for the number of people specified above.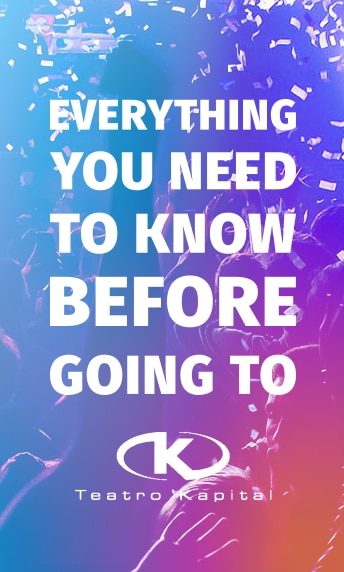 Description Teatro Kapital
Discover the 7 floors of the giant night club!
Teatro Kapital is the city's biggest club with 7 floors that offers everything from House to Hip Hop to Latin music. Find out what each floor is about!
Main Floor: House & Dance Music
1st Floor: Le Privee
2nd Floor: Music Studio Karaoke
3rd Floor: The Box (Hip Hop)
4th Floor: Kissing Room (Cocktail Bar by Bombay Shapphire)
5th Floor: The Party Zone (Reggaeton & Commercial Music)
6th Floor: Mojito & Cuba Libre Lounge
7th Floor: The Terrace (Lounge Bar & Smoking Area)
Get your QR code for discounted entry!
Teatro Kapital club does not have a guest list and instead has a QR Discount Code. The code is usually valid for one year and then the club issues a new code. The QR Discount Code works for everyone that has it on the phone. So download it, share it with your friends and show it at the cash point before paying to get the discount. The best deal is entry including two drinks for 18€ entering before 1:30. The deal is the same on Thursdays, Fridays and Saturdays. Exceptions are Halloween, New Year's Eve and events where tickets are required. Make sure you got your QR code because without it the entry fee is significantly higher with less included.
Save 30€ on each VIP table and bottle!
If you want to upgrade your night with a VIP table, Teatro Kapital offers you various options. The price depends on the table location and whether or not you have a reservation. Check for the prices according to the table location in the VIP table section above. Without reservation the price is 30€ more per table. Also, if you know that you are going to have more bottles buy them upon arrival because extra bottles that you purchase in the club cost 30€ more. The table locations are never guaranteed and the club reserves the right to change the reserved table or even cancel the entire reservation. Therefore, we recommend you show up around 12:30 to 1:00 to make sure you get the VIP zone you have reserved.
Avoid problems at the door!
The door staff is very strict on dress code, IDs and profile of the clientele. Rejections are quite common! Therefore, make sure you are well dressed (no sports wear, no hats, no earrings) and bring a valid ID (photocopies are not allowed).
To prepare for Teatro Kapital Madrid, check out our Ultimate Club Guide.
Recommendations
Teatro Kapital
Get your QR Discount Code, save it on your phone, share it with your friends and show it at the cash point before paying every time you go to Teatro Kapital.
Get in before 1:30am to get the best price (18€ including 2 drinks).
Get a VIP table for a special nightlife experience.
Come well dressed and bring a valid ID (non-EU nationals please bring your original passport). Nightlife Madrid is a team of professionals from all horizons, a friend who accompanies you to all parties 365 days a year.
At Nightlife Madrid, party language is spoken. A universal language that knows no borders and that unites people.
Nightlife Madrid evolves, improves and grows with the people who are part of its Family.