Bling Bling Madrid is a super exclusive club located right at Plaza de Colón. The venue was designed for the city's top clientele and when you haven been there you will not have any doubts on that. Bling Bling offers a large number of VIP tables in different zones. Keep reading to see which is your preferred VIP area.
The VIP areas on the lateral sides of the dance floor are called Grey Goose and Belvedere. Both have two lines of tables with one being right along the dance floor and the other one behind for more privacy.
Due to the popular demand for VIP tables, Bling Bling has added another line of tables on the dance floor in front of the Grey Goose area. Those are the only tables that are on the same height as the dance floor.
The last VIP area is called Clicquot and it is located around the DJ with tables for 5 people and a bigger one for 10 to 15 people.
In the end the tables are not that different. Just decide for yourself if you want to be closer to the dance floor or more private.
The best days to get VIP tables at Bling Bling are Tuesdays and Wednesdays because on those days they have a huge team doing shows and animation for their VIP clients.
What are the options for VIP tables?
Grey Goose Area
Tables 100, 101, 102, 103, 104 = 250€/350€* per Table (5-7 people)

Tables 200, 201, 202, 203, 204, 205 = 400€/500€* per Table (5-7 people)
Belvedere Area
Tables 400, 401, 402, 403 = 250€/300€* per Table (8 people)

Tables 300, 301, 302 = from 350€* per Table (8 people)
Clicquot Area
Tables 500, 501, 502 = from 200€* per Table (5 people)

Table 503 = 600€/1.000€* per Table (10-15 people)
Dancefloor Area
Tables 800, 801, 802, 803 = from 200€* per Table (5 people)
*Prices are minimum consumptions per table. Consumptions of 200€ are with a bottle 150€ + shisha.
How to reserve a VIP table?
There are different ways to reserve a VIP table at Bling Bling. The most common one is by phone or Whatsapp (+34 632 773 881). You simply get in touch with us with your preferences and we will reserve a table in the preferred VIP zone for you. Alternatively, you can send us an email to [email protected]. Either way, to log down your reservation we need your first name, last name, date of the reservation, in which zone you want the table and how many friends are coming with you. We have discounts and goodies for groups with a consumption of 500€ or more. Just ask us!
What does a VIP table include?
VIP tables at Bling Bling Madrid go by minimum consumption. This means you select alcohol bottles from the menu for what you have paid as a minimum consumption. Minimum consumptions of 200€ include a bottle of alcohol with mix drinks and a hookah. The entry to the club is included as well.
What to do upon arrival at the club?
VIP tables at Bling Bling are reserved until 2:00 and then will be sold at the door, but it is always recommended to show up earlier. A good time to arrive is 1:00.
Important: Bling Bling has a seperate VIP entry which is in Calle Marqués de la Ensenada. Upon arrival just say you have a table reservation under your name and they will take care of you. You can either pay by credit card or in cash.
Does a VIP table guarantee entry to the club?
No! The club always has the right to refuse access if you do not comply with the dress code or other requirements of the club. Usually that is not a problem. Just make sure you are well dressed and bring a valid ID.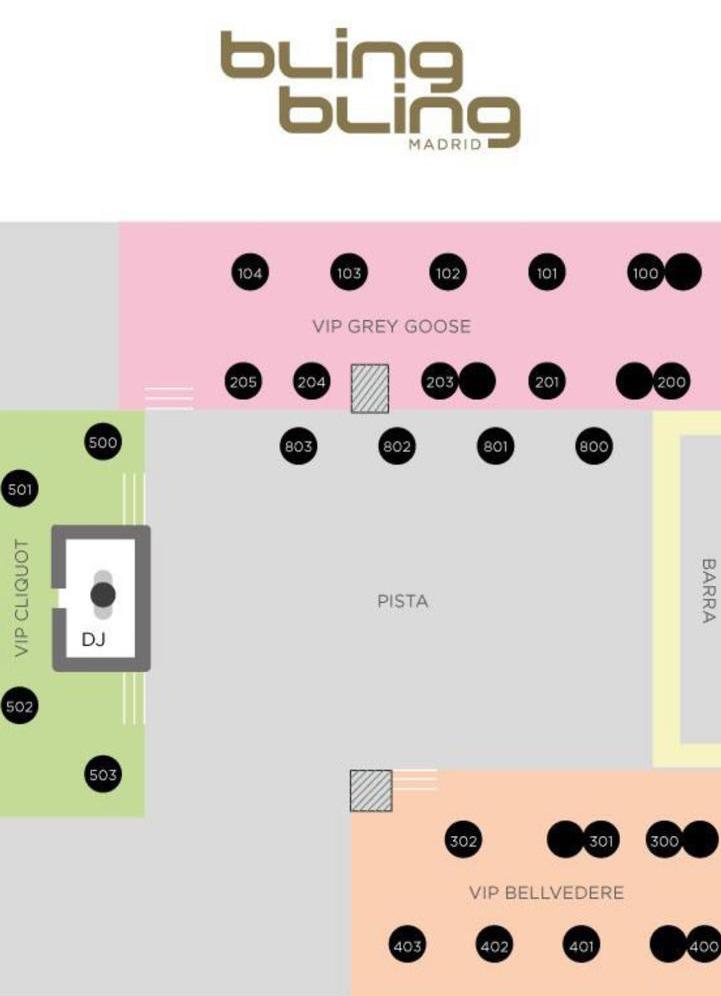 Nightlife Madrid is a team of professionals from all horizons, a friend who accompanies you to all parties 365 days a year.
At Nightlife Madrid, party language is spoken. A universal language that knows no borders and that unites people.
Nightlife Madrid evolves, improves and grows with the people who are part of its Family.