Guest List Prices The Flight
Early Bird (Entry before 21:00)
First Class (Behind DJ)
240€* – A table, 2 bottles of alcohol (Gin, Whisky, Rum…), mix drinks and entry for 6 people
Business Class (On Stage)
120€* – A table, 1 bottle of alcohol (Gin, Whisky, Rum…), mix drinks and entry for 6 people
*The price includes standard brands. If you like premium brands or big formats you can upgrade at the venue paying the price difference.
Video The Flight
Coming soon!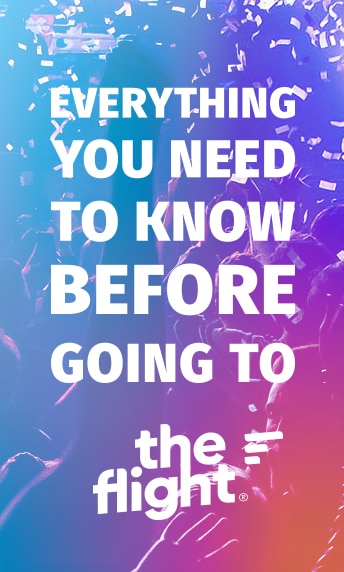 Let your dreams take flight!
The Flight is an unique party experience that takes you around the world providing you a new, exciting destination every week.
The most entertaining airline in the world!
The Flight selects the most electrifying destinations around the world for you. Whether you want to celebrate carnival in Rio, ski in the Swiss Alps or witness the Day of the Dead in Mexico, the Flight guarantees the best end-to-end experience.
VIP passengers have the option to upgrade to either Business or First Class to secure the best spots on the plane.
Take advantage of the Frequent Flyer Program!
The Flight offers its passengers a Frequent Flyer Program which provides first-hand information and exclusive benefits. Whether you want to know the next destination, win free flights, get an upgrade to First Class or receive special rates, make sure to sign-up for the Frequent Flyer Program.
Dress accordingly!
The door staff is very strict on dress code, IDs and profile of the clientele. Rejections are quite common! Therefore, make sure you are well dressed (no sports wear, no hats, no earrings) and bring a valid ID (photocopies are not allowed).
Recommendations
The Flight
Get on the guest list for free entry and drink discounts.
Get a VIP table on stage for a special nightlife experience.
Come early to get in fast and get the best drink deals. Tip: If you come before 23:30 it will only cost 5€ including 1 drink.
Get some Fucking Monday merchandize (t-shirt, hoodie, cap…) as a souvenir. Nightlife Madrid is a team of professionals from all horizons, a friend who accompanies you to all parties 365 days a year.
At Nightlife Madrid, party language is spoken. A universal language that knows no borders and that unites people.
Nightlife Madrid evolves, improves and grows with the people who are part of its Family.