The 15 Best Clubs in Madrid and Why You should Go
This is the ultimate guide to Madrid's clubbing scene. Keep on reading to find out about the best clubs in the city and discover crucial information for your night out in Madrid (venue size, international, posh, LGBTQ+-friendly, rock, techno, rooftop, salsa…).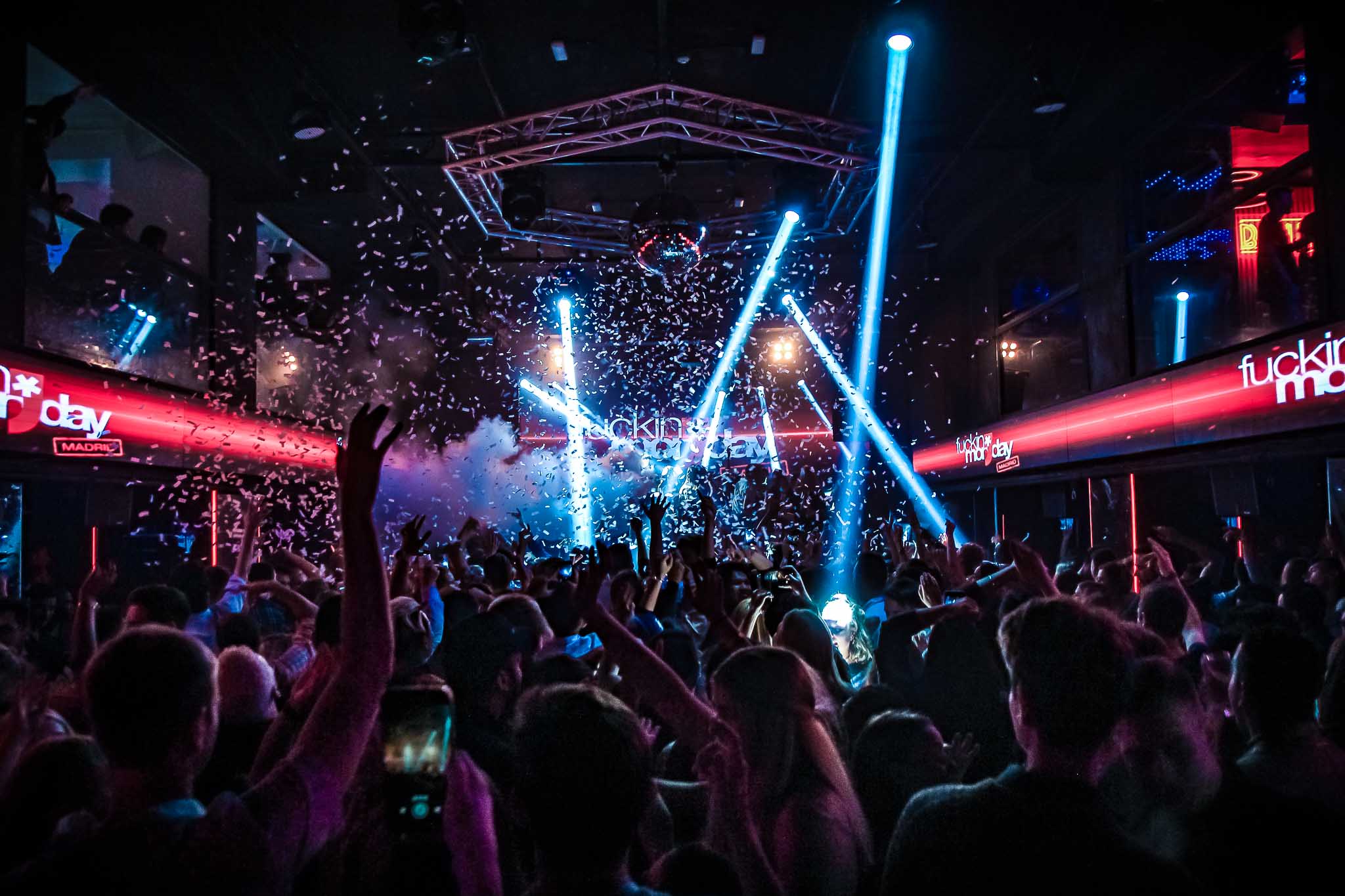 Madrid is known as the city that never sleeps with an outspoken culture. A typical Spanish night out starts with tapas, cañas (Spanish for beers), and friends, before moving on to copas (Spanish for mixed drinks) in a bar, and eventually partying all night long in one of Madrid's top clubs. In this article, our intentions are not to list the best mainstream clubs in the city, but to showcase Madrid's diverse nightlife with the best venues for every taste.
Fabrik – Madrid's biggest club
In 2003, a former aircraft hangar opened its doors with a mission to become 'Madrid´s Clubbing Mecca'. The club has an estimated capacity of 10.000 people divided over two dance floors and also features a huge outside terrace. According to DJ Mag, Fabrik was ranked number 37 in 2018 amongst the world´s best clubs.
The party calendar of Fabrik Madrid is a mix of long-running party event series such as GOA and SuperMartXé, paired with newer super projects such as elRow and CODE, featuring music varying from Techno to Electro to House. The list of famous DJs is long, and icons such as Carl Cox, Steve Aoki, Sven Väth, Marco Carola, and Luciano can be found at Fabrik regularly.
To make it even more spectacular, Fabrik Madrid has outfitted the club with the latest sound system, CO2 cannons, lasers, and LED screens.
The venue is located on the outskirts, about 30km from Madrid´s city center. Buses are available from 23:30 pm, and depart every 30 minutes from Plaza España. We recommend you get there early to enjoy the famous tailgating which takes place at the parking lot of the club.
Check out Fabrik Madrid in our club section for more information.
Address: Fabrik, Avenida de la Industria 82, 28970 Humanes de Madrid
Why should you go? If you love mega parties and top DJs and don't want to travel as far as Ibiza, Fabrik Madrid is definitely the place to go.
Fucking Monday – Madrid's best international party
According to the well-known German newspaper 'Die Zeit', you have not really studied abroad in Madrid if you have not been to Fucking Monday! Since 2012, Madrid´s most popular international party has been bringing together a massive international crowd to start the week together in the best possible way: Partying!
With the door staff speaking both English and Spanish, and the party taking place on three floors at reduced prices, Fucking Monday has many positive attributes that make it a weekly occurring go-to event for internationals in Madrid.
On the Main Floor, there is a commercial music mix consisting of top hits from the past and the present. On the Latin Floor, you will mainly hear Reggaeton. Lastly, on the Beer Pong Floor, you have the possibility to compete and win some cash or other great prizes.
Fucking Monday takes place every Monday year-round at Sala Cool between Plaza Santo Domingo and Plaza España. This makes it easy to reach by public transportation. People that live in the center might even get there the fastest by just walking. Make sure you get on the guest list for the best deals or reserve your VIP table before going. Dress up, make sure to bring your ID, and get ready for Madrid's best international party.
Check out Fucking Monday in our club section for more information.
Address: Fucking Monday, Calle Isabel la Católica 6, 28013 Madrid
Why should you go? Fucking Monday might just become part of your lifestyle in Madrid, and is a must-experience for every international living, or even visiting the city.
Teatro Kapital – Madrid's most famous club
Teatro Kapital is Madrid's most famous club outside the country. It used to be a theater, and on its 7 floors, the club offers something for every taste: House Music, Hip Hop, Reggeaton, Karaoke, and even a rooftop terrace during summertime.
In terms of entertainment, Teatro Kapital has dancers dressed according to the theme of the night performing together with the DJs on stage. The DJs are mostly rotating local ones, however, once in a while, there's a guest DJ. It would be unfair not to mention the humongous CO2 cannon which shoots regularly from the top of the club down on the main floor that makes the entire crowd go "wow, did this really happen?".
In the club, you will find a mix of locals and tourists. Getting rejected at the door is a common phenomenon at Kapital. Therefore, it would be advisable that you try to match the elegant profile the club is looking for, and never forget to bring a valid ID (original passport for non-EU nationals).
Teatro Kapital is open on Thursdays, Fridays, and Saturdays. On Thursday the crowd is young and it feels more like a student party. However, Fridays and Saturdays the people are a bit older with the average age being about 25. Instead of a guest list, Teatro Kapital works with a QR Discount Code. You can request it online in our club section. Save it on your phone, share it with your friends (everyone must have it on their phone), and show it at the door for the discounted entry of 18€ including 2 drinks if you enter the club before 1:30 am.
Check out Teatro Kapital in our club section for more information.
Address: Teatro Kapital, Calle Atocha 125, 28012 Madrid
Why should you go? Teatro Kapital is almost like a 7-story monument in the city and you should have seen it at least once during your stay in Madrid.
Icon – Madrid's best value-for-money club
Icon Madrid is a recently refurbished club with a lot of history. It's located right in the city center which makes it easily accessible via all kinds of public transportation. Again, it is located within walking distance for everyone living in the center. The club has a top-notch sound system, disco lights, VIP tables, and a spacious dance floor. The crowd depends on the night as each night is organized by a different promoter. In this post we are referring to the party you can find at Icon on Fridays.
On Fridays, Icon transforms into one of the most beloved clubs for locals and internationals alike. The party is called Hashtag Friday. You can expect to find an international music mix with Reggaeton, Hip Hop, R&B, and even some EDM. The crowd is generally very enthusiastic and the prices are unbeatable. You can get entry plus 2 drinks for 10€ until 1:00 am,  and entry plus 2 drinks for 12€ until 3:00 am. And yes, all drinks are included in the price!
If you are planning to come down to Icon, we recommend you get on the guest list (previously mentioned deals are guest list only) or reserve a VIP table for an even more comfortable nightlife experience. Also, make sure you dress well and bring a valid ID. It's best if you show up early because there are usually more people than space.
Check out Icon Madrid in our club section for more information.
Address: Icon Club, Calle Doctor Cortezo 1, 28012 Madrid
Why should you go? If you are living on a budget but want to party like Gatsby, make sure you check out Icon Madrid on a Friday night.
Teatro Barceló – Madrid's most exclusive club
Teatro Barceló is definitely Madrid's most exclusive club. It's very popular so make sure you meet the high entry requirements, otherwise, you could be wasting a lot of time waiting in line! The minimum age for ladies is 23 and for gents 24/25. The door staff makes up some sort of margin and frequently makes exceptions for people with VIP tables (or very good looking girls).
The club works with a guest list that provides you with a reduced entry fee. If you're not on the guest list, you may get in, but the cover charge will be significantly higher. If you are looking for a VIP experience, Teatro Barceló has VIP tables all around the dance floor. You can get a VIP table starting at 150€. Make sure you make a reservation before you go to have a table secured and to avoid paying a higher price. You can only get the best deals by making your reservations early. 
As mentioned above, the door staff is quite strict with the dress code, age, and general appearance of its clients. People that want to enter also must have a valid ID. We always recommend you go early. That way, if you get rejected, you still have plenty of time to find another club.
Check out Teatro Barceló in our club section for more information.
Address: Teatro Barceló, Calle Barceló 11, 28004 Madrid
Why should you go? Teatro Barceló offers you an exclusive clubbing experience in the city center as long as you meet the requirements of 23+ (ladies) and 24/25+ (gents).
Stardust Club – Madrid's most liberal club
Founded in 2003, Stardust Madrid has evolved to the best Techno party in the capital of Spain on Fridays. Featuring a mix of both top national and international artists, combined with an extremely liberal crowd, gives Stardust Madrid its unique, different, and very original atmosphere.
The diversity that exists amongst the crowd and the environment is the best-kept secret of Stardust Club Madrid, and this contrast is characterized by a tolerant and respectful environment so that everybody can enjoy a unique clubbing experience.
Stardust Madrid takes place every Friday and the line is usually long. Therefore, we advise that you show up early or get a table to skip the line.
Check out Stardust Madrid in our club section for more information.
Address: Stardust Club, Calle Isabel la Católica 6, 28013 Madrid
Why should you go? Stardust Madrid offers an open-minded and liberal crowd fuelled with Berlin-inspired Techno for a unique clubbing experience.
Opium – Madrid's best VIP club
Opium Madrid is one of the city's top clubs with the motto "see and to be seen"! Things that describe Opium the best would be: awesome venue, good music, beautiful people, and luxury. You may even see local or international football stars there from time to time. 
The typical clientele of Opium is Madrid's high society. Additionally, a decent amount of "wannabes" that want to spend a glamorous night are part of the scene. The typical thing to do at Opium Madrid is to get bottle service. The club is filled with VIP tables to the extent that there is no proper dance floor. 
Opium Madrid opens every night and the busiest one is on Saturdays. Make sure you reserve your VIP table beforehand to make sure you get the best price and table.
Check out Opium Madrid in our club section for more information.
Address: Opium, Calle José Abascal 56, 28003 Madrid
Why should you go? Opium Madrid is the perfect place to spend a glamorous night with a VIP table.
Baila Cariño – Madrid's best LGBTQ+ club
Madrid is actually one of the most liberal and LGBTQ+-friendly cities in the world. Every year, the Madrid Orgullo (Madrid Pride) takes place in the Spanish capital, attracting millions of people from all around the globe to have a huge party together.
Baila Cariño is the most well known gay party in Madrid. Organized in Sala Cool, the party takes place in a top venue with three different rooms: Main Room, Baila Room, and White Room. The party always attracts a large crowd from the LGBTQ+ community. 
Baila Cariño is every Saturday and attracts more than 1.000 people every week. We recommend you come early to reduce waiting time and get in before the place reaches its maximum capacity.
Address: Baila Cariño, Calle Isabel la Católica 6, 28013 Madrid
Why should you go? Baila Cariño offers you every Saturday the best gay parties on three different floors.
Mondo Disko – Madrid's best techno club
Mondo Disko is your typical weekly Electro party with a local DJ. Mondo Disko is a weekly Electro party featuring well-known international top artists. DJs such as Solomun, Maceo Plex, Marcel Dettmann, Acid Pauli, Seth Troxler, Laurent Garnier, Loco Dice, Len Faki, Jeff Mills, and Bonobo are some of the frequent appearances at Mondo Disko.
The clientele of Mondo Disko consists of Electro music lovers from near and far. There is no specific dress code meaning you can dress comfortably and dance all night long alongside your favorite DJs.
Mondo Disko takes place every Thursday and Saturday. Once again, we recommend you get tickets beforehand so you can secure the best price and take the fast queue.
Check out Mondo Disko in our club section for more information.
Address: Mondo Disko, Calle Alcalá 20, 28014 Madrid
Why should you go? Mondo Disko is the best place to experience your favorite DJs in Madrid.
Independance Club – Madrid best rock club
Here is the curious fact about Independance Club. It's not actually a club, it's an event that focuses on music. The event takes place on Fridays and Saturdays. The current venue is Zenith.
At Independance Club, it is all about the music. It's also the meeting point for rock music fans in the city. Some nights have themes such as "Glow Party", and others are tributes to famous rock artists.
Since the music is rock, you can imagine the dress code is quite tolerant meaning everyone is welcome. The same can be said about the atmosphere. It is quite relaxed and people are there to have a good time.
Check out Independance Club in our club section for more information.
Address: Independance Club, Calle Atocha 127, 28012 Madrid
Why should you go? Independance Club is a paradise for all rock music fans.
Liberty – Madrid's best local club
Liberty Supper Club is one of the latest to open doors in Madrid´s posh neighborhood, Salamanca. The club re-opened in 2017 with a new name. Since then, it works like a magnet for the local posh crowd. Liberty has two floors, on the ground floor (which has a balcony) you can listen to a Commercial Music mix with a lot of influences of Reggaeton. On the bigger floor downstairs, it's all about House Music and bottle service.
The secret of the success is probably the proper selection of the clientele, but also the fact that Liberty Madrid differentiates itself from the rest of the clubs in Salamanca in terms of design (it's a mix New York and Tokyo), creativity (they are able to surprise you every week) and customer service.
The clientele consists of typical high-class people that live in barrio Salamanca. These are often Master students and young professionals working in the consulting or finance sector. So if you plan on going, make sure you dress well to make it to the inside of the venue.
On Thursdays, the crowd is a bit younger, more graduate students, and on Fridays and Saturdays the official age requirement is 23 years and the crowd consists more of decent Spanish people from the barrio.
Check out Liberty Madrid in our club section for more information.
Address: Liberty, Calle Juan Bravo 31, 28006 Madrid
Why should you go? Liberty Madrid is the perfect place to party with a posh Spanish crowd from 23 years and up.
Bocanegra – Madrid's best open air terrace
Bocanegra is the successor of Casa Corona which was the super trendy summer terrace in 2019 where everybody used to take selfies. When the contract with Casa Corona expired, Bocanegra took over and made few changes to the style. Bocanegra Madrid consists of a restaurant/bar, a winter terrace with heating, and a spectacular open-air summer terrace right in the heart of the city.
During 'Spanish' summertime, which is approximately from May to October, the open-air terrace offers the best chill vibes to a maximum of 400 people. They have background music, DJs, concerts, and compared to the very high-priced rooftop terraces, Bocanegra Madrid is way more affordable.
Bocanegra Madrid doesn't work with a guest list or anything like that. Just swing by when you are close and disconnect from the busy city life. 
Address: Bocanegra, Calle Marqués de Casa Riera 1, 28014 Madrid
Why should you go? If you are looking for an urban oasis with delicious drinks during summertime, Bocanegra Madrid is the place for you.
El Son – Madrid's best salsa club
El Son is probably the best place to dance to some Salsa in the city center. They offer dance classes from Monday to Thursday from 22:30 to midnight, and afterward social dancing.
Whether you are a beginner, intermediate, or advanced, at El Son there is something for everyone. The atmosphere is friendly and open and partners are changed regularly to make sure you meet new people and have fun. On busy nights, both floors will be opened so when you want to take it easy, you can simply go to the cocktail bar and chill.
The clientele is very diverse and varies from beginners to pros, and from locals to tourists. El Son is the meeting point for all Salsa fans in the city center of Madrid. If you are looking for a fun beginner's class and the opportunity to meet new people, check out the Meet & Dance event every Monday at Sala Cool.
Address: El Son, Calle de la Victoria 6, 28012 Madrid
Why should you go? The perfect place for salsa for beginners, intermediate, and pros at the same time.
Casa Suecia Rooftop – The best rooftop
The Casa Suecia Rooftop is the perfect place to have a sundowner after work or chill with friends on the weekends. The rooftop terrace has two floors with a bar, chairs, couches, tables, music, and the best views in the city. Whether you go during the day or at night, the amazing views will not disappoint you.
Although the venue and its views are the best of the city, the Casa Suecia Rooftop still isn't as commercially exploited as the rooftop terrace of its neighbor, Circulo de Bellas Artes. The crowd generally consists of clients of the hotel and insiders that have heard from a friend about this fantastic place.
The Casa Suecia Rooftop is open every day from noon until 1:00 am and 2:00 am on Fridays and Saturdays. Be aware that they charge an entry fee of about 12€.
Address: Casa Suecia Rooftop, Calle Marqués de Casa Riera 4, 28014 Madrid
Why should you go? The Casa Suecia Rooftop is the perfect place to have a drink while enjoying a magnificent view of Madrid.
Bling Bling – Madrid's best club for VIP tables
Bling Bling is a relatively new club in Madrid but the nightlife business is nothing new for Grupo Costa Este. They are running some of Spain's top clubs such as Opium Madrid, Barcelona and Marbella, and Bling Bling Barcelona. They opened in Madrid with the goal of offering the best VIP tables to the city's high-society.
The VIP tables at Bling Bling Madrid are located in different lines all around the dance floor. Therefore, you can decide whether you want to be higher up (more private) or closer to the dance floor (where the party's at), all options are available.
Surprisingly, the most popular days for VIP tables at Bling Bling are Tuesdays and Wednesdays. In order to get the best price and table location, we recommend you make your reservation as soon as possible with us.
Check out Bling Bling Madrid in our club section for more information.
Address: Bling Bling, Calle Génova 28, 28004 Madrid
Why should you go? Bling Bling offers you the best VIP tables in Madrid.
– Nico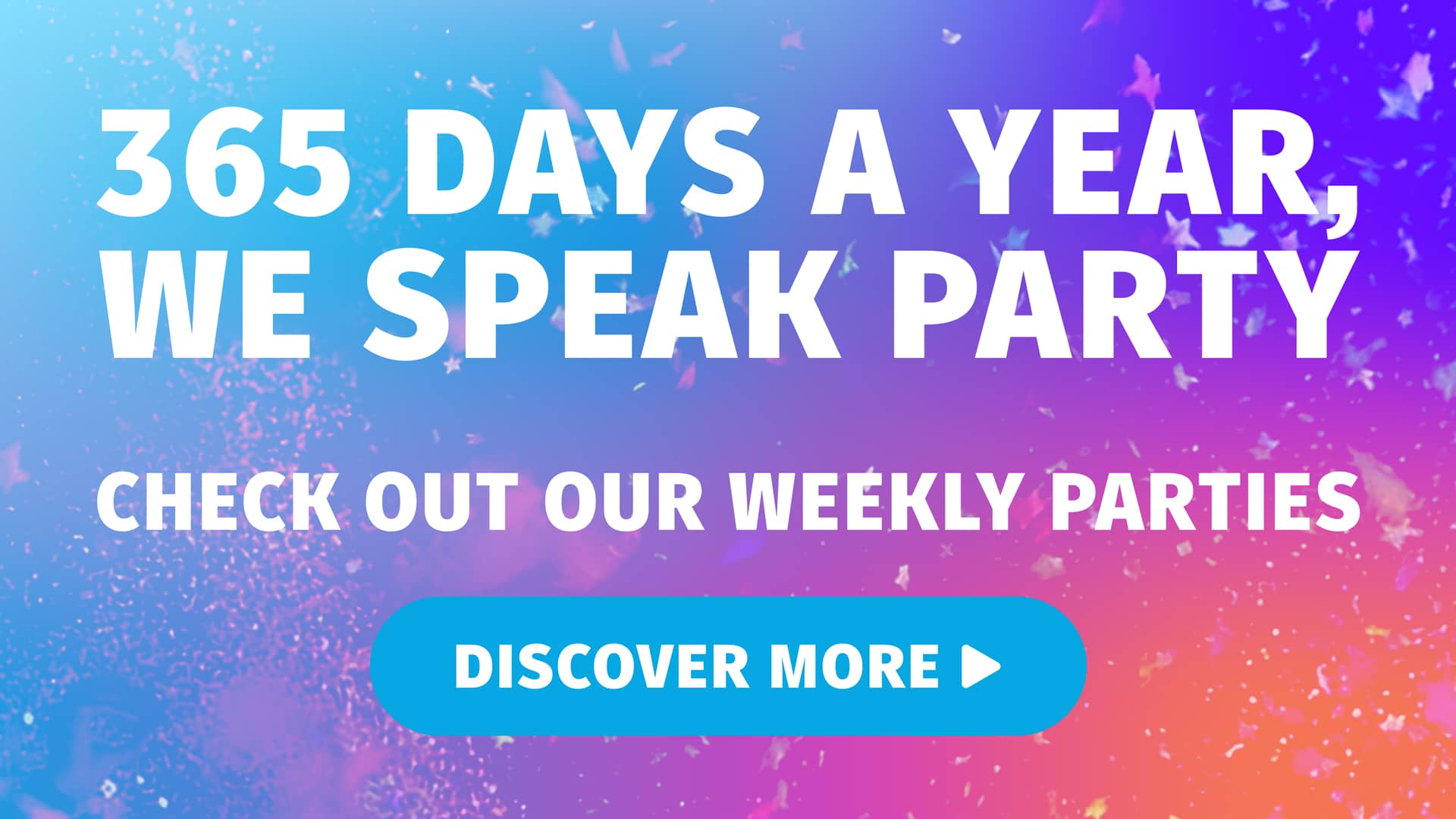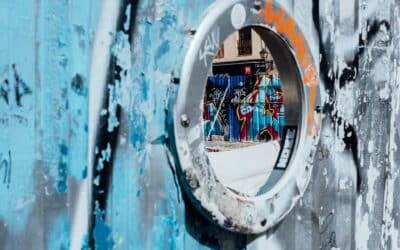 La Latina Madrid offers you a wide range of typical restaurants and bars to start a great night with tapas and drinks.
read more Nightlife Madrid is a team of professionals from all horizons, a friend who accompanies you to all parties 365 days a year.
At Nightlife Madrid, party language is spoken. A universal language that knows no borders and that unites people.
Nightlife Madrid evolves, improves and grows with the people who are part of its Family.